I walked to work this morning (takes over an hour) laughing all the way listeing to
"Wait, Wait- Don't Tell Me!"
which happens every Saturday morning. At least this week I wasn't on the but cracking up all by myself- or, like last week, when a severely disabled/ mentally retarded guy gets up on the bus and I just happen to burst out laughing AS I WAS LOOKING AT HIM. (Of course it would be impossible to explain "no, sir, I'm actually laughing at this news quiz show on the radio- not you!") Suffered the looks of death for that one...
SO,
nadinechen
moved to the big wonderful city of Berlin today, schooeeeene grosstadt, whoa- this really blows my mind- "is this really happening?" yes, apparently so- wir werden zusammen eine Zukunft bauen aus nichts (also, aus energie unt liebe, eigentlich) Terribly exciting. My head is hardly here.
I love Nadine, I love Berlin.
when I was studying in Frankfurt an der Oder I was in Berlin 3-4 afternoon/evenings a week. I'd just take the train into town and walk around. See movies, go to bookstores, visit random galleries, museums and studios. Sleeping in bus stops and train stations if I missed the last train, which wasn't often... Oh and there's that little theatre... where is it... I saw "Sweet and Lowdown" there as well as several other less-memorable films.
Come to think of it I must've been quite annoying at that time. I'd just walk in any friendly-looking door. There was one time when a textiles girl invited me to "come over any time" to her studio, but the day I showed up there was just a neurotic Korean there. "Sie werden bald wieder zurueck kommen- setzen sie sich-" so I did and ended up waiting for hours nervously in this enormous room full of dummies, sewing machines, cloth and nervous energy-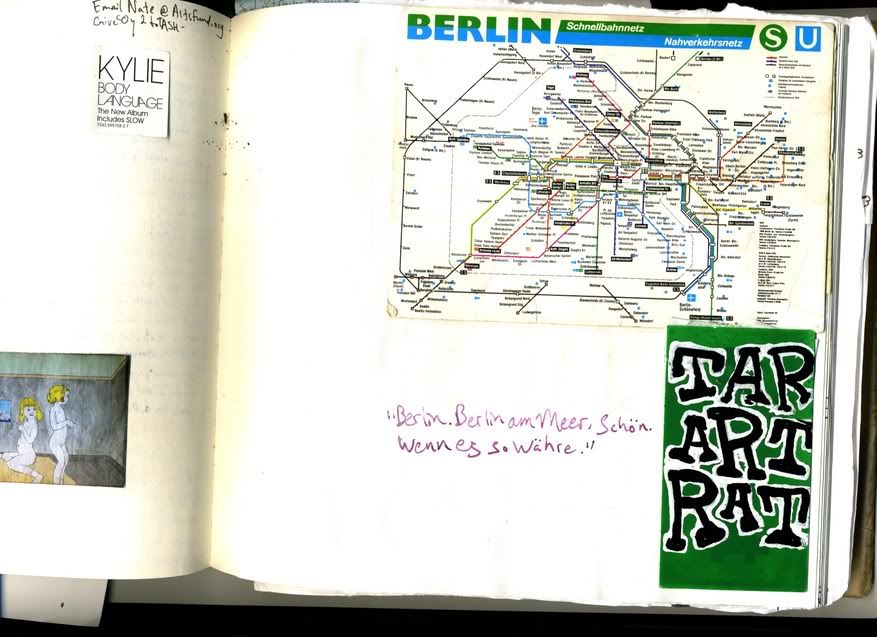 Here's a postcard my mom gave me of the Berlin U-Bahn and S-Bahn System, I glued it into my journal along with the wierd lyrics from that song "Berlin. Berlin am Meer, schoen wenn's so waehre..." Which translates to something like: "Berlin. Berlin on the sea, beautiful- if it were so..."
(Jeans Team, heh.)