Post Titled:
Bonjour Winter!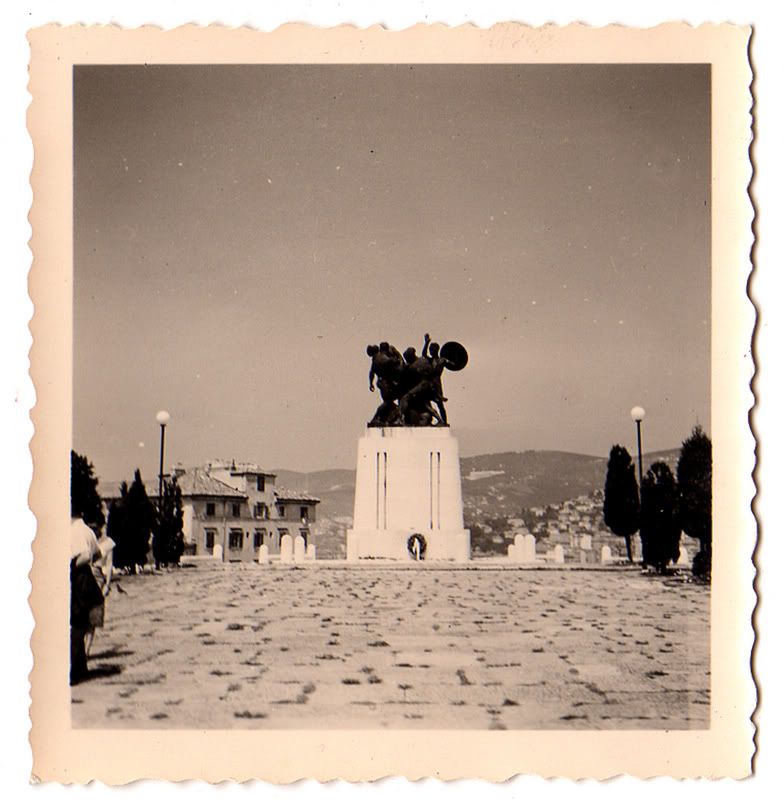 What can you get for 20 cents these days? Nothing. Wel, almost, I bought the above photo at the T.A.C. Fleamarket (Treptow Art Center Troedelmarkt) yesterday for exactly 20 cents. it is not much more that 2 x 2 inches and has the word "Tristese" penciled in immaculate handwriting on the back... NOTE to ALL READERS: always write information on the back of your photos, you never know who will buy them in 50 years at a flea market...
Other than that all I have done in the past 36 hours is sleep, go on short single-purpose outings, (i.e. videostore, or to buy toothpaste) drink juice or drink beer, eat, nap, dream lots of weird epic dreams.
It is still snowing, I think i am allowed to do these things, make tea and build the fire up. Continue insulating the cracks in the doors and windows...
I watched Die Hard 4.0 (which I think is called something else in the stateside version- like Live long and Die Hard or something, but it German it is "Stirb Langsam 4.0 (aka "Die Slowly" but also main title in English is Die Hard 4.0- go figure.) Also watched Another boring Chinese epic with flying swords and Gong Li which put me to sleep... and a lot of
Berlin Berlin
- which is essentially the German equivalent of "Dawson"s Creek")
I can't remember who I was talking to the other day but we came to the conclusion that a fourth part in a series is awkward- like,
"Will they make a Spider-Man 4?"
Hard to say. Batman "4" of the contemporary Batman series, for example, was unnecessary (what was it called? The one with Arnold Schwarzenneger?... granted, with the Batman movies of 1989-1997 they did change up directors (twice?)). Superman 4 also, "The Quest for Peace" did absolutely nothing for the franchise- it was bad.
HOwever the 5th of both contemporary Batman and Superman (respectively: Batman Begins and Superman Returns) the filmmakers distanced themselves from the previous films creating a new "cool"er version of the story and heroes, a total makeover really, more gritty, less canned, more "realistic" (if you can even apply that word to a comicbooks superhero adaptation-)...
BUT given the fact that there is now a Die Hard 4 and an Indiana Jones 4 on the way one might say that it seems to be
ok
to make a 4th if you give the series 15-20 years to cool down, and sink into the collective mind of pop culture as a sort of legend/icon, the revitalize it- playing heavily off the earlier films no doubt- and openly emphasizing the
"I'm too old for this"
-ness of Bruce Willis and Harrison Ford. Is this a new Hollywood plan of attack? Or just saving money on cultural recycling? Note: this also happened with Teenage Mutant Ninja Turtles recently, three live-action films, then a CGI film 15 years later... there are probably more examples which I am not aware of...
Labels: Indiana Jones and the Kindgom of the Crystal Skull Die Hard 4 T.A.C. Fleamarket Treptow Art Center Troedelmarkt Berlin Fleamarkets Tristese