tHIS pOST tITLED:
YESTERDAY WAS A DAY OF DANCING AND TODAY WILL BE A DAY OF MINIMAL THINKING (NOT MINIMALIST, JUST MINIMAL)
Indeed, from the get-go yesterday I was skipping down the street
umbrella-orchestrating a jig to that Beirut album Nanc' burnt for me, it's like a happysad stumbling-wailing gypsy wake,
and you can chant along and bop the umbrella to the time back and forth- 1-2-2-1-2-2, excellent stuff, ceas had originally sent me the link to
this gorgeous song which is probably the most gorgeous song I've heard in quite awhile.
Every time I think "What could they do next" somethign new and amazing and und=foreseen comes along,...somethign to be said for human creativity-
Post Nicole and Jamie's pre-pre-wedding get together at ze Garage we (for some strange reason)went oput dancing (err, danced like drunken lunatics, rather) particularly Bubba and I, (we were dancing so well, in fact, that they pulled our drinks- I think...) and it was
genius
- I LOVE that sh*T! There's something to be said for letting go and dancing every once in awhile, and it is even better if everyone is celebrating something- like a wedding- or a
pre
-wedding day when everyone arrives to town, Megan, Bubba, Anna, - all people I haven't seen in years, so life was partcilarly good... being appy from all that and then drinking a lot = dancing fool!
BIG FAT
(modern jackass)
DISCUSSION about
Second Life
/youtube/myspace/blogs with bubba, the latter 3 are my current favorite topics, really really really- (well, those and the
lonelygirl15
thing which is simple, effective, hilarious and a clashing of worlds- at that. Big eyes and a heart-shaped face, no wonder millions of people were suckered- that girl looks like a
adorable baby animal.
)
Oh, and "what's with all those myspace friend requests from webcam girls?"
"it's that guy's fault."
"Tom?"
"No- the australian-"
"Rupert."
"Right, it's marketing!"
"But for what? What are they selling"
"I assume the friend requests lead to something you eventually have to buy... or it is lonely computer nerds who get-off/get a kick out of pretending to be slutty 19-year old girls..."
Never really came to any conclusions.
Yao, and all I know about Second Life
is what this girl blogged (warning: graphic!)
(scroll to April 14th posting
if
that link will even work because her blogs are set to private) and then the
exhibit at Bumbershoot this year...
which was, like, tres sci-fi, like... when things are all futuristic n'stuff at a world's fair... Anyhow, yackity schmackity. I'm not supposed to be using my brain AT ALL today, remember.
shoot-!

I'm definitely going to miss these goofballs: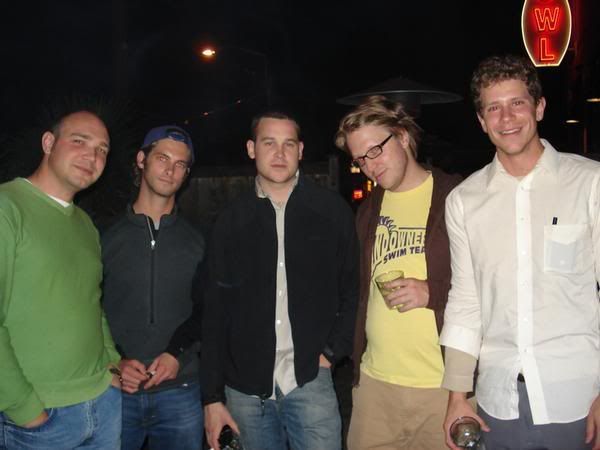 "I'm gonna LOL all over myself" -Jamie