This is friggin adorable, found it in the park outside my house in the park on 15th and E. Garfield, signed "Jason Ralls and Tara Wike":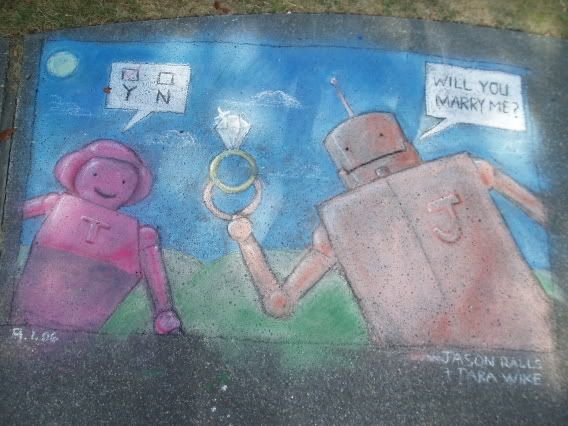 I went to
Liberty
this morning and everything was half-off, wtf $.75 cent coffee! Hellyea, not that I really had anythign to do but gmail chat with Nadine but it was nice.
I did hoewver realise that this was in order:
REDRESS OF GRIEVANCES TO INK,PEN,AND MARKER PRODUCERS OF AMERICA AND EUROPE AS READ ALOUD BY BUSTA RHYMES:
"
ALVIN
, YO'
'PENSTIX'
IS BITCH! 'A black 'india ink quality' FALSE-ASS MARKETING BUUUUULLLLSH*T muthafawka WHAT'S DAT PUSSY-ASS SH*T?, SH*T! YOU X'SPEKT ME TO ACCEPT THE FACT DAT DAT SH*T FADES AFTER A YEAR-AND-A-HALF?!!! SH*T'S BITCH! AUSTRIAN MUTHAFAWKAS! and SHARPIE, DON' MAKE ME COME AFTER YOU- CUZ YO' SH*T'S BITCH TOO!
'PERMANENT MARKER'
MY ASS! TRY WRITING ON PLEXIGLASS! DAT SHIT FADES! DON'
LIE
TO ME, SHARPIE, DON'
LIE!
HIGGINS, YOU OFF THE HOOK- BLESS YO'
'MAGIC BLACK'
ASS, AMEN. SAKURA Micron, you japanese fools know WHASS
UP
!"
...and that's pretty much how I feel about the ink, pens, and markers I've been using for the last 10 years. Nevertheless, if Busta could just read it out-loud, I'd be more than satisfied...