Post Titled:
David Byrne and the
Dirty Projectors.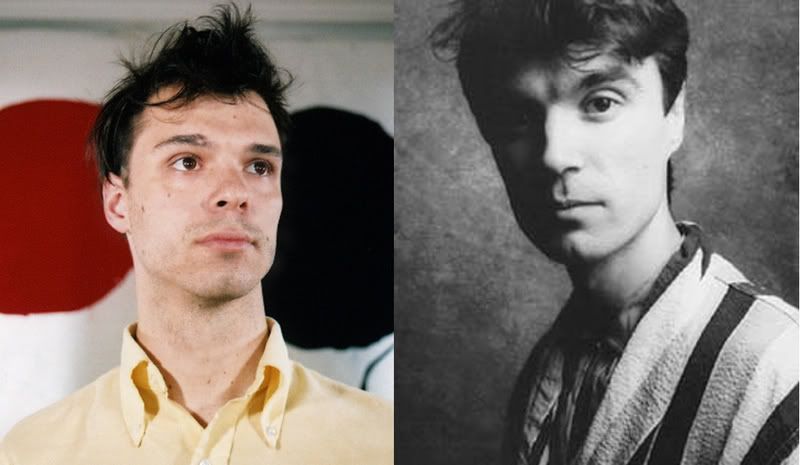 the Dirty Projectors' Dave Longstreth (foto by Mia Ferm) and the Talking Heads' David Byrne
foto that fits on the page:
So. I love the Dirty Projectors. I have probably mentioned that many many times
in blog entries over the past year or so- and I have also noted the
uncanny resemblance between Dave and David
(even down to their charming awkwardness and their bird-like head bobbing on-stage) and their two bands- basically the loose theory being that the
Dirty Projectors
are to 2007 as the Talking Heads are to '77 and so-on and so-forth... (even though 2007 was last year, but that was the first time I'd heard of them)
ALL OF which is why I practically lost my sh*t when I read
David Byrne's most recent journal entry this morning:
"I recorded a couple of songs Sunday and Monday with the band Dirty Projectors for an upcoming Red Hot project....I like what Dave Longstreth and
Dirty Projectors
are doing, although part of what attracts me to them is something I can't exactly place, can't figure out. Their music has familiar elements, yet often sounds like pop music by someone who has read about the form, but never heard it, and then handed the essential building blocks to make some songs. That's not actually true though, as Dave made plenty of jokes about music while we were working —he has a deep knowledge of tunes and their respective artists. But the band's music remains completely strange and oddly familiar at the same time. I'd been told more than once that we should all work together, and it seems the suggestion was fated to be realized.
For one song, Dave L sent me a demo by email that he had recorded in a Vienna hotel room on tour. I did my best to figure out the chords and the tempo, and record my own version, for which I then wrote the words. We didn't end up using my recorded version; but the words, and my somewhat straightened out version of the melody, came in handy."
Labels: the Dirty Projectors David Byrne red hot project Dave Longstreth and david byrne photo mia ferm dead oceans '77 2007 2008