Post titled: The Science of Lack-of Sleep.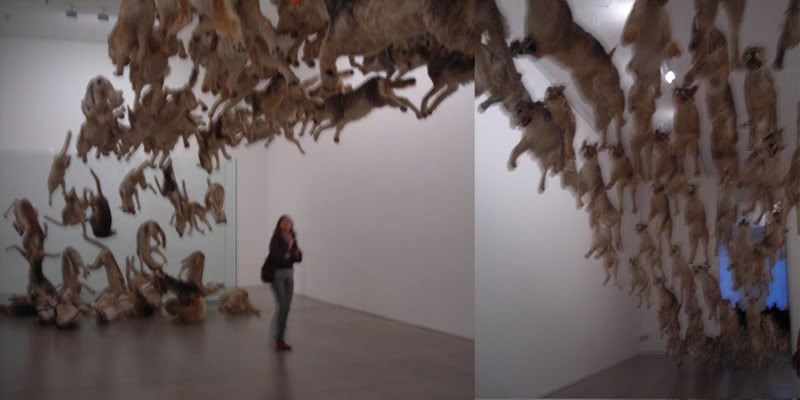 (Nadine under the Wolfwave at the Guggenheim)
I am sitting here late late (up with jetlag, (in the kitchen bearing-chattering-grin from the chill inside/outside) while Nadinechen sleeps soundly in the bedroom) and writing this post in Open Office because these is a Security-Enabled wireless connection SOMEWHERE nearby that I obviously can't get to... but would consider putting posters up AROUND THE BUILDING to get on that guys connection,shoot- the telephone line is a bit limiting... but I really don't NEED such decadence, I just got spoiled at ye olde 1602, augh. Twas good, though, that ol' Wi-Fi, ooh, how sweet it was... now:
no moble phone, no internet at my fingertips, lordy!
anyhow, yes I was shocked to see my wireless window pop up here in the kitchen but not in the rest of the apt) mainly because I just assumed that no one in this neighborhood had such a service. If it weren't for the mobile phones, tell-tale fashion and cars then one might think this place existed was anywhere between 1975 and 1990.
(*ears prick up from noises in the stairwell*)
Ah yes, the nightly middle-of the night loud shuffle run of the person upstairs all the way DOWN the staris and loudly out he front door, that seems to happen like clockwork...
But, by the way, I love it here, Iäm in my own kind of heaven- today we went first to the installation by the Chinese artist
Cai Guo-Qiang
at the
Deutsche Guggenheim
Exhibit was composed of (a mini-tsunami) of 99 life-sized wolves (constructed from sheepskin) welling-up and flying from one room to the next and then crashing into a glass wall. (I'll include fotos here soon). Drawings made from exploding gunpowder... pretty Amazing stuff... and can't wait for the Barney/Beuys Austellung to come soon soon.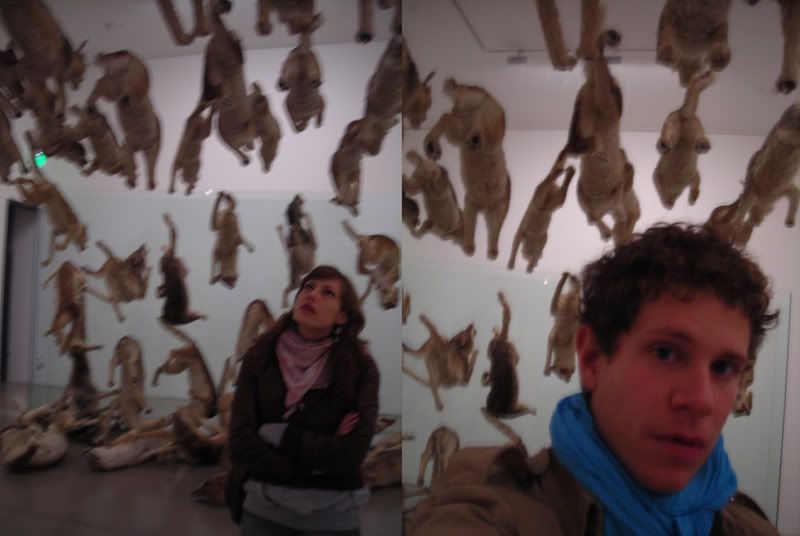 We wandered my old haunt Hackishcer Markt (ì
Die Hackescher Höfe
) and I was shock at my disorientation, the entire neighborhood had bee infiltrated by Hugo Boss, Acne Jeans, and two-dozen other high-end boutiques but still had a solid grip on its own charm somehow. The last time was there (December 2001) it was still mainly (pretty-much) dilapidated but fascinating, now it is a shopping wunderworld of well-lit minimalism and expensive kitsch-wear, all half-restored-half dilapidated and lively as hell.
<
NEUROTITAN, Iäll have to reccomend it to Marianne for the next Cult of Youth issue...

We went to a warm cozy little spot called

Zum Rosa

(Weinbergsweg 26) for some "NY style cheesecake" which was brilliant (and I#m not one to eat such dessert things), I babbled while nadine flipped through the most recent ìGALAî (equivalent to

People

? Or

Us

?) and then too the U-Bahn back just in time to catch The Science of Sleep, which I enjoyed immensely the second-time around (despite not having the experience of Michel Gondry standing two feet away from me for an uncomfortably long duration at the bar afterwards, which happened at SIFF last Summer.) But yes, damn charming movie. Both Nadine and I got a bit sad later because we felt like we wanted to/could've DONE something like that if only our lives had worked out as such (she Charlotte Gainsbourg, and I the gorgeous creatures/animations) but I tried to emphasize to us that "we've still got many years left in our youth, -just have to keep working!" which is true. These creative fields are funny like that, I feel like you really have to do your time if anything is to happen... EVER. Nadine did bring up a good point, though: pretty much ANYONE could've done what Charlotte Gainsbourg did in that movie, and better at that. Alas. Nadine also made an observation I hadn't really noticed: "It's a sad movie, he's crazy." Yes, the main character is

crazy

, I guess I didn't think of it that way... and the outcome is actually less clear that I remembered...

I'm still pinching myself here to be living with the most charming and lovely creature I've ever met, to quote David Byrne:

'How did I get here? This is not my beautiful House! This is not my beautiful wife!'

Ok, so it is Susanne's apartment and Nadine and I aren't married

just yet

, but it IS all quite amazing...

Hmm, I'm still not used to seeing couples on the subway, cute young couples each with an open beer in hand prepping for a Saturday night (yes, drinking in public goes practically unnoticed... I'd forgotten.)

We came home and retrieved two bottles of some Zwyiec (Polish favorite) and watched her DVD from the Jusian Smith video that she was in which had arrived in the Post earlier, clever video, really.



The German immersion thing is going surprisingly well, not only has my language come back but I am learning quickly, and absorbing things constantly. It'll be awhile before I'm really good, but I'm happy with my progress. The only english I'm even 'speaking' seems to be in this blog, hmm... (hence the long-windedness?)



Ok, must try to sleep again now, ugh. Brain hurrrrrts.